Competition calendar IRONSTAR
23.07.2016
Регистрация закрыта
Description
The Russian Triathlon Cup OLYMPIC TRIATHLON KIROV 2016 for age group athletes, distances: 1.5-km swim, 40-km bike, 10-km run. Everyone is welcome.
Kirov is situated in a wooded area, where the air is fresh. It is a tiny provincial town with spectacular streets, ancient buildings and new modern districts, cozy cafes and quiet public gardens. It is home to the famous Dymkovo toy; it is the fur and peat capital of Russia.
The race starts in the countryside, beyond the precincts of the town, close to Strizhi settlement. The swimming stage starts on the reservoir bank, on the 2nd km of the Strizhi-Orichi highway.
The cycling stage leads the participants from Strizhi to the very center of Kirov. You will have enough time to see the main attractions of the town – its museums and temples.
Finally comes the running stage – 4 laps along the main streets of Kirov. The race ends at the finish line in the heart of the town, on Teatralnaya Square. 
July 23, 2016. The temperature in Kirov Region during this time is quite comfortable – around 15 degrees, which creates perfect conditions for establishing personal records without any risk of a heat exhaustion.
Race course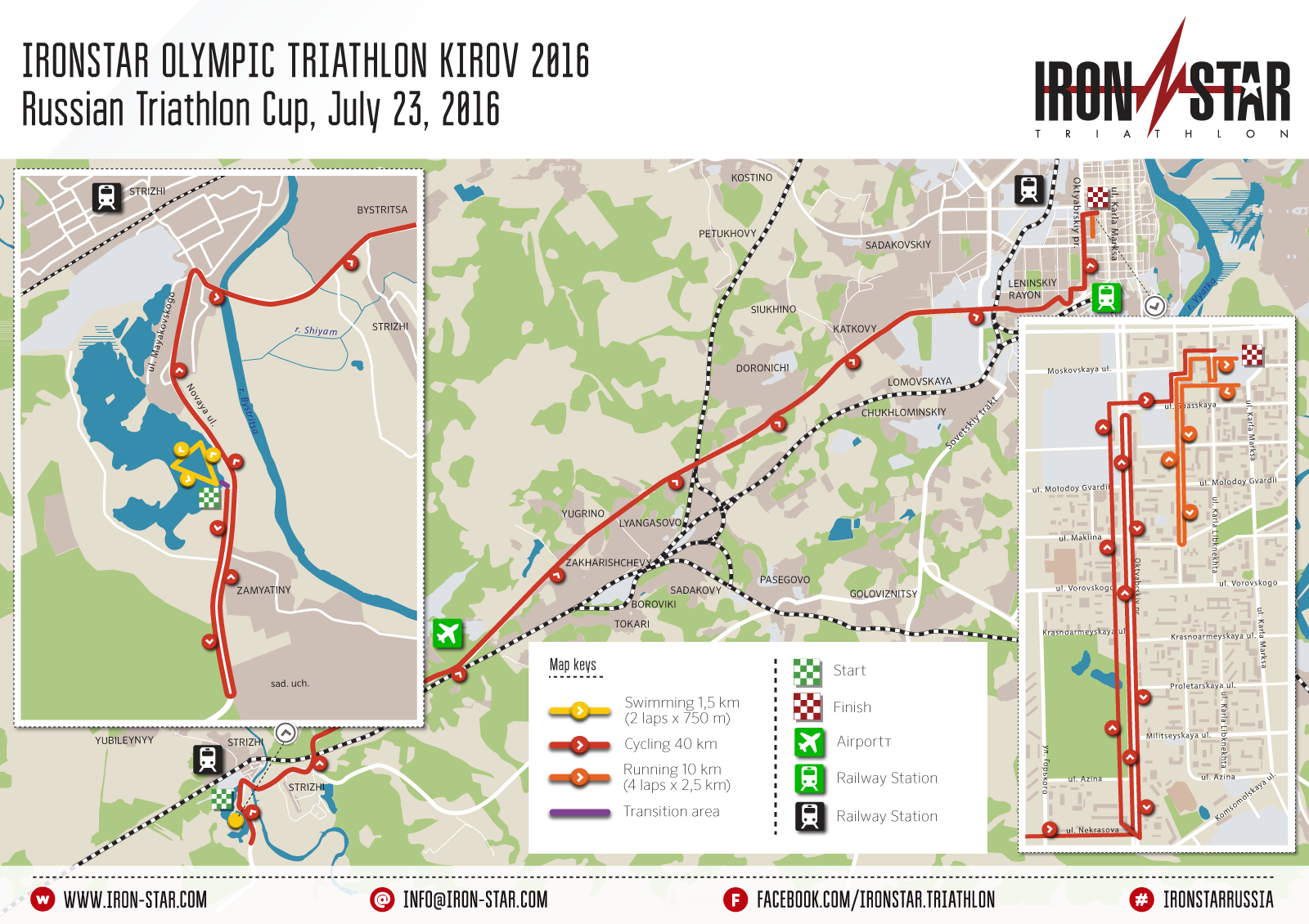 Participants
Race number
Name and Surname
Country
Team
M18-29 (Age Group 18-29 Male Athletes)
0017
Maksim Melchikov
Russia
Бодрые
0019
Sasha Borisov
Russia
Без Фанатизма
0021
Anton Kasterin
Russia
temptraining.ru
0025
Igor Kotkov
Russia
Триатлон-НН
0026
Mikhail Zhurbenko
Russia
0031
Aleksandr Korovin
Russia
sberbank triathlone team
0036
Maksim Kolesnikov
Russia
Red Lava
0038
Artem Orlov
Russia
0040
Sergey Morozov
Russia
0042
Vitaly Si
Russia
0046
Aleksandr Glabchastyy
Russia
ChelnyTriathlonTeam
0051
Timofey Tatarinov
Russia
0053
Aydar Valiullin
Russia
0054
Nikolay Smirnov
Russia
ССШОР
0057
Ivan Tsukanov
Russia
ЖБК "Лепсе"
0063
Kirill Yurkov
Russia
Iurkov team
0068
Anvar Tuykin
Russia
INIT RUN
0073
Kozlov Evgeniy
Russia
0075
Maksim Shpakovskiy
Russia
0081
Igor Lavrov
Russia
0091
Pavel Osipov
Russia
-
0094
Almaz Safiullin
Russia
"Триатлон-Уфа"
0096
Sergey Ivanov
Russia
Триатлон-НН
0097
Nikita Kublikov
Russia
X-Kirov
0104
Evgeniy Ustinov
Russia
ROSNEFT Triathlon Team
0105
Mikhail Trusov
Russia
Studio 8
0106
Alisher Alimov
Russia
0113
Vasiliy Mokrousov
Russia
Триатлон-НН
0117
Yuriy Skorobogatko
Russia
Chelny Triathlon Team
0120
Mikhail Umnov
Russia
0123
Roman Ulanov
Russia
лыжный клуб ШИЖМА
0124
Vyacheslav Redkin
Russia
верёвочный парк развлечений Гамми
0133
Andrey Bakhaev
Russia
Temptraining
0158
Ilya Trubin
Russia
Chelny Triathlon Team
0161
Maksim Bakshaev
Russia
Яранск
0180
Aleksandr Siverskov
Russia
Adibass
0191
Aleksandr Eliseev
Russia
M30-34 (Age Group 30-34 Male Athletes)
0003
Ivan Fost
Russia
ЦиклON
0006
Aleksandr Shabalin
Russia
TRIATHLON TEAM PERM
0010
Sergey Rakcheev
Russia
трилайф
0011
Sergey Vankov
Russia
0013
Alexander Smirnov
Russia
David Warden Coaching
0014
Daniyar Khabiev
Russia
Triatleta
0016
Stepan Pivovarov
Russia
Х-Киров
0018
Dmitriy Monakhov
Russia
Толстячки
0020
Ruslan Sadikov
Russia
0022
Vasiliy Muntyan
Russia
0024
Andrey Gusev
Russia
БОДРЫЕ
0029
Vadim Ryabtsev
Russia
X
0030
Petr Gyske
Russia
adidas runners Moscow/ЦиклON
0032
Rustam Timerbaev
Russia
0033
Marat Fakhrutdinov
Russia
Initrun
0037
Konstantin Kraynov
Russia
0039
Damir Nuriakhmetov
Russia
ChelnyTriathlonTeam
0041
Petr Kireev
Russia
0044
Vladimir Elkin
Russia
Циклон
0047
Aleksandr Esev
Russia
0048
Roman Vesnin
Russia
велоклуб "Сотня"
0049
Timofey Ershov
Russia
Pirahna
0058
Aleksandr Lybanev
Russia
Трилайф
0076
Aleksandr Eryemin
Russia
0078
Maksim Mezhevikin
Russia
БОДРЫЕ Бузулук
0085
Oleg Maksimov
Russia
Triathlon Team Perm
0089
Vyacheslav Moskovskiy
Russia
ЦиклON
0090
Leonid Italyantsev
Russia
Hard Rock triathlon club
0095
Yuriy Islentev
Russia
TriKirov
0101
Ivan Glushkov
Russia
0116
Aleksey Kubyshev
Russia
TRI Kirov
0128
Nikolay Vedernikov
Russia
0129
Alexsander Bogatyrev
Russia
TRI&SKI
0134
Roman Kiselev
Russia
Сталепромышленная компания
0145
Sergey Kruglov
Russia
TERMINATORLAR
0148
Vadim Skobelkin
Russia
TRI Kirov
0151
Vasiliy Kovyazin
Russia
0152
Aleksandr Blagorozhev
Russia
ВелоНововятск
0167
Aleksey Bolotov
Russia
0168
Roman Bushuev
Russia
0169
Aleksandr Tarakanov
Russia
0170
Dmitriy Sokolan
Russia
велоклуб Тандем, Х-Киров
0171
Vasiliy Leushin
Russia
Х-Киров
0172
Egor Pospelov
Russia
ВТО-43
0175
Vyacheslav Sokolov
Russia
Terminatorlar
0182
Pavel Lanin
Russia
Общественная палата Российской Федерации
0183
Andrey Igumnov
Russia
0185
Aleksandr Nekrasov
Russia
43 регион
0186
Valeriy Yudintsev
Russia
0189
Maksim Plyusnin
Russia
M35-39 (Age Group 35-39 Male Athletes)
0001
Stanislav Kuznetsov
Russia
БОДРЫЕ
0004
Vadim Temirkhanov
Russia
Триатлон-нн
0012
Artem Poluboyarov
Russia
Олимпик стар
0027
Aleksandr Grigorev
Russia
0028
Rais Shaehov
Russia
0034
Dmitriy Ryakhovskiy
Russia
0043
Sergey Alpatov
Russia
0045
Nikolay Tomarev
Russia
DWC
0059
Konstantin Sadartinov
Russia
Triathlon Team Perm
0061
Evgeniy Morozov
Russia
БОДРЫЕ
0069
Mikhail Klepikov
Russia
X-Kirov
0079
Mikhail Luchikhin
Russia
I Love Runing
0082
Pavel Kaysin
Russia
Triathlon team perm
0084
Ilya Derbenev
Russia
0086
Roman Mochalov
Russia
0087
Ruslan Shakirov
Russia
CycleON
0100
Konstantin Kopach
Russia
КЛБ "Спарта"
0102
Vladimir Gordeev
Russia
PSS-PRO
0103
Maks Vasilev
Russia
велоклуб «Сотня»
0108
Vadim Nuriakhmetov
Russia
БОДРЫЕ
0112
Vladimir Shirokikh
Russia
Вояки
0115
Evgeniy Ivanov
Russia
ТОЧКА СПОРТА
0138
Roman Evgrafov
Russia
Terminatorlar
0139
Yaroslav Semenov
Russia
Общественная палата Российской Федерации
0142
Ramil Salyakhov
Russia
0144
Evgeniy Butorin
Russia
TRI59
0154
Sergey Shustov
Russia
Х-Киров
0157
Viktor Orlov
Russia
Спорт FM Киров
0164
Aleksandr Bolotov
Russia
Triatlon Team Perm
0174
Mikhail Kuzminykh
Russia
Велоклуб Тандем
0178
Aleksandr Maltsev
Russia
Лыжный клуб "ШИЖМА"
0181
Denis Lekomtsev
Russia
динамо
0188
Georgiy Larin
Russia
M40-44 (Age Group 40-44 Male Athletes)
0005
Aleksandr Kormushkin
Russia
Триатлон-НН
0007
Andrey Kirnos
Russia
0009
Rustem Gafarov
Russia
0015
Artem Obolenskiy
Russia
0050
Oleg Rezanov
Russia
татнефть-самара
0055
Aleksandr Lebedevich
Russia
0056
Yuriy Novikov
Russia
0066
Aleksey Bobkov
Russia
Trilife.ru
0072
Aleksey Roshchin
Russia
Лично
0092
Aleksandr Kokovin
Russia
0093
Sergey Verkhovtsev
Russia
Лично
0098
Andrey Shakhtorin
Russia
0099
Vasiliy Revin
Russia
БОДРЫЕ
0107
Gudovskiy Pavel
Russia
OUTDOOR TEAM Пушкинский
0109
Dmitriy Tretyakov
Russia
БОДРЫЕ
0110
Ruslan Grabar
Russia
БОДРЫЕ
0118
Denis Repin
Russia
велоклубы X-Kirov, "Сотня", "Велоклуб Жуковский"
0122
Andrey Baranov
Russia
0126
Rustem Saetgaraev
Russia
0131
Aleksandr Batalov
Russia
0135
Sergey Novoselov
Russia
Triathlon Team Perm
0137
Aleksandr Brechalov
Russia
0143
Boris Zheleznyakov
Russia
Лично
0153
Aleksandr Cheremiskin
Russia
0184
Aleksey Levashov
Russia
Баграм 345
M45-49 (Age Group 45-49 Male Athletes)
0002
Stanislav Ivanov
Russia
World Class OUTDOOR Team Пушкинский
0062
Dmitriy Nikitin
Russia
Велоклубы "Тандем", "Сотня"
0114
Vladimir Shishkin
Russia
0121
Ivanov Andrey
Russia
0136
Sergey Novikov
Russia
TERMINATORLAR
0147
Krutyakov Aleksey
Russia
Ювента TRI 59 Березники
0149
Konstantin Surnin
Russia
0155
Sergey Potapov
Russia
0176
Igor Lagunov
Russia
0187
Alexander Shalygin
Russia
M50-54 (Age Group 50-54 Male Athletes)
0035
Vladimir Murugov
Russia
0064
Sergey Sivkov
Russia
Swiftman
0074
Andrey Cherdyntsev
Russia
0088
Vladimir Drobakhin
Russia
ЦПС "Темп", ГАУ РК "Коми региональный лесопожарный центр"
0125
Viktor Krutikhin
Russia
Лыжный клуб "Шижма"
0130
Evgeniy Bochkarev
Russia
Яранич
0141
Ayrat Gaynullin
Russia
Kolorit Run
0150
Sergey Karacharov
Russia
Триатлон-НН
0159
Rinat Gabidullin
Russia
0177
Andrey Klimov
Russia
0179
Mikhail Kassin
Russia
0190
Sergey Semakin
Russia
Х-Киров
M55-59 (Age Group 55-59 Male Athletes)
0132
Leonid Kapin
Russia
0156
Sergey Fokin
Russia
0160
Aleksandr Rusinov
Russia
Яранск
M60-69 (Age Group 60-69 Male Athletes)
0070
Sergey Degtyarev
Russia
фтр
F18-29 (Age Group 18-29 Female Athletes)
0023
Yuliya Shaposhnikova
Russia
0080
Olga Kondrateva
Russia
Крылья
0083
Yuliya Poletaeva
Russia
Общественная палата Российской Федерации
0119
Kseniya Svalova
Russia
БОДРЫЕ
0165
Rezeda Khabibulaeva
Russia
0166
Ekaterina Chernysheva
Russia
Chelny Triathlon Team
0173
Natalia Krotkova
Russia
Sberbank Triathlon Team
F30-34 (Age Group 30-34 Female Athletes)
0060
Elena Ershova
Russia
mail.ru Piranha
0067
Olga Kasatkina
Russia
Триатлон-НН
0127
Kamilla Stepanova
Russia
F35-39 (Age Group 35-39 Female Athletes)
0077
Alexey Nikulin
43 регион
F40-44 (Age Group 40-44 Female Athletes)
0052
Mariya Alikina
Russia
105 ЭЛЕМЕНТ
0146
Olga Bobkova
Russia
триатлон нн
F45-49 (Age Group 45-49 Female Athletes)
0140
Natalia Shkurko
Russia
Triathlon Team Perm
F50-54 (Age Group 50-54 Female Athletes)
0162
Tatyana Pavlishcheva
Russia
ДНР ДР СДЮШОР
F55-59 (Age Group 55-59 Female Athletes)
0071
Elena Kasatkina
Russia
Триатлон-НН
0163
Galina Trubina
Russia
TRUBINA TEAM :)
Race number
Triathlon leg
Name and Surname
Country
Team
Male

1000
swim
Igor Poletaev
Россия

3G

bike
Nikita Grishin
Russia
run
Artyem Samoylov
Россия

1001
swim
Anton Kokorin
Россия

PANDORA KIROV

bike
Dmitriy Zhuykov
Russia
run
Anton Zyablitsev
Россия

1003
swim
Yura Pylskii
Россия

Ювента TRI 59 Березники

bike
Sergei Mishanin
Россия
run
Andrey Mishanin
Russia

1004
swim
Alexey Leuhin
Россия

Дороничи

bike
Sergey Ulanov
Russia
run
Igor Okulov
Россия

1007
swim
Aleksandr Shubin
Россия

ZaYac Team

bike
Igor Trushkov
Russia
run
Maksim Sosegov
Россия

1008
swim
Igor Bagin
Россия

Глобус

bike
Ilya Bakin
Россия
run
Ilya Bakin
Russia

1010
swim
Sergey Doronin
Russia

СПРАВЕДЛИВАЯ РОССИЯ

bike
Aleksandr Torkachenko
Россия
run
Aleksandr Batanov
Россия

Female

1009
swim
Svetlana Medvedeva
Russia

Верю в тебя!

bike
Svetlana Udelnaya
Россия
run
Anna Alminova
Россия

1011
swim
Elena Zaytseva
Россия

Дымка Тойс

bike
Aleksandra Alminova
Russia
run
Vera Vlasova
Россия

Hybrid

1002
swim
Ilya Rakhimov
Россия

Tandem Racing Team

bike
Ivan Gornostaev
Russia
run
Anastasia Vshivtseva
Россия

1005
swim
Sergey Doronin
Россия

Справедливость

bike
Evgeniy Alminov Alminov
run
Konstantin Lumpov
Россия

1006
swim
Nikita Lopatin
Россия

Adidas

bike
Vera Uvarova
Russia
run
Igor Brygin
Россия