Competition calendar IRONSTAR
27.08.2016
Регистрация закрыта
Description
August 27, 2016. The Russian Cup IRONSTAR SPRINT TRIATHLON KAZAN 2016 for amateur athletes, distance: 0.75-km swim, 20-km bike, 5-km run. Everyone who has registered and paid the entrance fee is welcome.
The race will take place in Kazan, the capital of Tatarstan and one of the most beautiful towns in our country. Kazan is saturated with an athletic spirit after Universiade 2013 and the 16th FINA World Championships. Now, the city is waiting for new victories and winners!
The competition will start on the Kazanka River embankment, where the swimming stage will be held. The itinerary does not have any sharp turns. The world's leading athletes have already tested the waters. Now it is high time for you to do your best.
The cycling stage will proceed along the spectacular streets of the Universiade 2013 capital, passing its principal sights.
The running stage will take place in the very heart of Kazan – on the Kazanka embankment. The finish will be breathtaking. 
Race course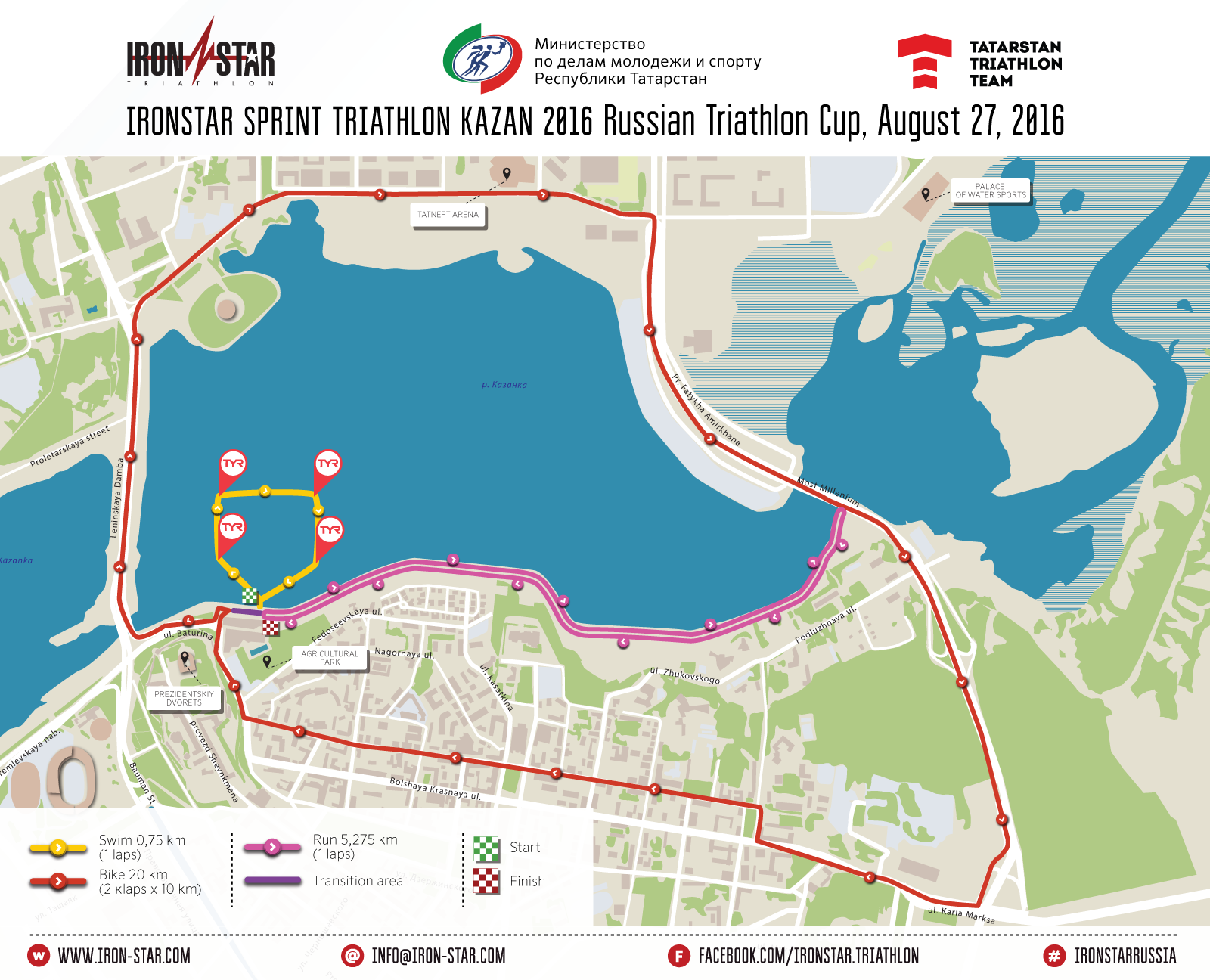 Accommodation
«TRITOUR» is a leading travel agency with a great experience in organizing and supporting of sport events. We have a serious database of athletes in Russia who are actively involved in all sorts of competitions. Our team has also successful experience of foreign athletes' reception in Russia.
«TRITOUR» specializes in organizing tours to the IRONMAN Series, ITU World Triathlon series, Challenge series events, Oceanman series, world-class marathons, swimming, cycling and other competitions all over the world. As a tourist agency we offer full range of the tourist services: booking of accommodation, flights, transfers to the place of sport events, visa support and insurance.
RESERVATION
Participants
Race number
Name and Surname
Country
Team
M18-29 (Age Group 18-29 Male Athletes)
2000
Boris Platov
Russia
2002
Ruslan Minikeev
Russia
2006
Ildar Baryshev
Russia
2007
Artur Sayfullin
Russia
2009
Marat Valeev
Russia
2012
Anton Rasskazov
Russia
2015
Albin Gimazov
Russia
2017
Vladimir Zhuravlev
Russia
2018
Evgeniy Bazarov
Russia
Iloverunning
2022
Denis Konovalenko
Russia
Шангрила
2032
Denis Nebylichenkov
Russia
2035
Ilya Trubin
Russia
Chelny Triathlon Team
2039
Artem Ginevsky
Russia
Skolkovo Triathlon Team
2043
Ilya Solomin
Russia
2059
Ilya Nikolaev
Russia
2061
Alisher Alimov
Russia
2063
Artur Akhmetshin
Russia
КУКАН
2084
Artem Pochtar
Ukraine
2088
Stanislav Artsishevskiy
Russia
2089
Andrey Bakhaev
Russia
Temptraining
2099
Dmitriy Melkov
Russia
S. A. Ricci Gazprombank Endurance Club
2106
Alexander Gagloev
Russia
2109
Yaroslav Silenko
Russia
ТРИАТЛЕТ
2114
Rashit Khamidullin
Russia
2119
Sergey Sokolovskiy
Russia
S. A. Ricci Gazprombank Endurance Club
2121
Aibek Bekbosynov
Kazakhstan
Fidelity
2123
Matvey Zubov
Russia
2139
Evgeniy Sonin
Russia
Крылья
2141
Aleksey Klimin
Russia
Триатлон-НН
2147
Pavel Borchenko
Russia
2151
Dmitriy Timofeev
Russia
2152
Aleksandr Trebunskiy
Russia
Казанский национальный исследовательский технологический университет
2155
Denis Ryabtsev
Russia
Нижний Новгород
2160
Aleksandr Svinin
Russia
2162
Arseniy Dorozhkin
Russia
Kazan Innovative University (IEML)
2163
Aleksandr Kharlamov
Russia
2170
Marat Nogumanov
Russia
2178
Artem Grabovich
Russia
2181
Maksim Blazhko
Russia
2183
Almaz Khamidullin
Russia
Sinergia Triathlon Team
2184
Adel Valiullin
Russia
2185
Andrey Ivanov
Russia
World Class Пушкинский OUTDOOR TEAM
2186
Nikita Kononenko
Russia
2193
Maksut Nizamutdinov
Russia
2200
Aleksandr Bezruchenko
Russia
2208
Ilya Oleynikov
Russia
Triatlet
2214
Artem Muzyka
Russia
SKOLKOVO Triathlon Team
2215
Nikolay Chasovitin
Russia
2221
Ruslan Galiullin
Russia
2225
Nikita Sysoev
Russia
2232
Damir Sitdikov
Russia
2233
Stanislav Bulgarevich
Russia
Olymp
2238
Nikita Oparin
Russia
Swift time
2255
Aleksandr Rybakov
Russia
M30-34 (Age Group 30-34 Male Athletes)
2008
Nikita Shadrintsev
Russia
МГТУ им. Н.Э.Баумана
2011
Ruslan Galimzyanov
Russia
Sinergia Triathlon Team
2020
Artur Nurmukhamedov
Russia
SKOLKOVO triathlon team
2024
Ildar Ishbulatov
Russia
ТРИАТЛЕТ
2025
Aleksey Neustroev
Russia
Triatlet
2027
Georgiy Kryukov
Russia
2034
Ilia Zabegaev
Russia
SKOLKOVO
2040
Andrey Anikanov
Russia
2052
Aleksey Shulga
Russia
2053
Timur Sergeev
Russia
2054
Albert Latypov
Russia
TimerYoldyzlar
2055
Bulat Valeev
Russia
Chelny Triathlon Team
2064
Sergei Shubin
Russia
Iloverunning
2067
Aleksey Totmyanin
Russia
2076
Azat Murtazin
Russia
2081
Andrey Vlasov
Russia
НИКА
2087
Maksim Malkov
Russia
KPMG Running club
2091
Dmitriy Ovechkin
Russia
Triathlon Top Liga Club
2103
Stanislav Borovikov
Russia
Феррум-К
2113
Artem Zakirov Zakirov
Russia
2122
Aleksey Burchenkov
Russia
2133
Aleksandr Obishchenko
Russia
Tristars
2135
Yuriy Kokhan
Russia
RullezTeam
2143
Dmitriy Dolzhenkov
Russia
SAP
2154
Vladimir Bobylev
Russia
2158
Roman Kiselev
Russia
Сталепромышленная компания
2166
Ruslan Sadikov
Russia
2167
Ayrat Kalimullin
Russia
2172
Aleksey Klenin
Russia
Виктория
2176
Georgiy Abramyan
Russia
2179
Rustam Timerbaev
Russia
2180
Marat Fakhrutdinov
Russia
Initrun
2187
Aleksandr Esev
Russia
2195
Andrey Lebedev
Russia
TYR Russia
2197
Timur Gazizov
Russia
ЦиклON
2207
Almas Zhapabayev
Kazakhstan
Нет
2223
Ildar Gimadutdinov
Russia
2224
Fanis Nurmukhametov
Russia
Касаясь Толстоты
2229
Dmitriy Kormishin
Russia
2240
Aleksey Bezrukov
Russia
2241
Bulat Ismagilov
Russia
Альметьевск
2245
Pavel Lyubin
Russia
2247
Artem Kuznetsov
Russia
HEALTH ACTIVE
2248
Efim Klimov
Russia
KLM
2250
Daniel Sadykov
Russia
Sinergia Triathlon Team
2253
Ildar Mukhambetov
Russia
2254
Ilsur Mubarakov
Russia
M35-39 (Age Group 35-39 Male Athletes)
2004
Bakhtiyer Babaev
Tajikistan
S2S
2037
Timofey Chekhoev
Russia
Сколково
2038
Dmitriy Vedernikov
Russia
2044
Denis Turantaev
Russia
Фитнес лайф
2047
Aleksey Zhuravlev
Russia
БОДРЫЕ
2056
Ilshat Latypov
Russia
2066
Ruslan Yanchilik
Russia
2075
Ivan Ostanin
Russia
2078
Aleksandr Korostelev
Russia
БОДРЫЕ
2086
Azamat Tokushev
Russia
2096
Aleksey Kavtsevich
Russia
2107
Vladimir Bukhtoyarov
Russia
Триатлет
2110
Aleksey Levkin
Russia
World Class
2118
Dmitry Astrein
Russia
2131
Jens Heitland
Germany
David Warden Coachig / DWC
2137
Pavel Artyushenko
Kazakhstan
2146
Vitaliy Ufimtsev
Russia
Алексеевский лыжный клуб
2177
Aleksey Utev
Russia
DUCK TEAM
2188
Oleg Andreev
Russia
Coca-Cola Russia Triathlon Team
2194
Aleksandr Yankovskiy
Russia
2201
Yurkin Andrey
Russia
2206
Andrey Ermin
Russia
2228
Mikhail Chistyakov
Russia
2235
Ayrat Khayrullin
Russia
Альметьевск
2239
Georgiy Larin
Russia
2242
Andrey Podovalov
Russia
Альметьевск
2243
Marat Girfanov
Russia
Альметьевск
2244
Kirill Rassomakhin
Russia
Pro-Trener
2249
Albert Khalyapov
Russia
2252
Delyus Sirazetdinov
Russia
2257
Ilkhom Ismailov
Russia
2259
Nikolay Sokolov
Russia
Top Liga
M40-44 (Age Group 40-44 Male Athletes)
2014
Sergey Tambovtsev
Russia
ЦиклON
2016
Dmitriy Savin
Russia
Дантист
2030
Vladislav Tevikov
Russia
Z3TEAM
2033
Denis Kondrashin
Russia
IWB
2045
Roman Nizhankovskiy
Russia
World Class
2083
Vadim Zelenskiy
Russia
Zelenski Run Club
2092
Marat Bashirov
Russia
Йошкар-Ола
2097
Alvaro Solorzano
Costa Rica
Cycleon
2101
Genrikh Erdman
Russia
TITAN
2105
Vyacheslav Maratkanov
Russia
Random team
2112
Aleksandr Kuzminov
Russia
2125
Yuriy Zafesov
Russia
2165
Yuriy Bazilevskiy
Russia
Temptraining.ru
2171
Shamil Zakirov
Russia
2173
Dmitriy Filatov
Russia
2175
Nariman Tauzari
Russia
Terminatorlar
2182
Vasiliy Mishchenko
Russia
2203
Stepan Churakov
Russia
2226
Dmitry Egorov
Russia
World Class
2230
Vadim Gareev
Russia
M45-49 (Age Group 45-49 Male Athletes)
2057
Dmitry Denisov
Russia
2065
Stanislav Ivanov
Russia
World Class OUTDOOR Team Пушкинский
2073
Vladimir Radygin
Russia
2080
Andrey Arkhipov
Russia
2095
Mikhail Kossilov
Russia
RRC Run Club
2098
Sergey Levitskiy
Cyprus
CypRusInternationalTA&weGo!
2104
Konstantin Mishchenko
Russia
Runclub Митино
2116
Evgeniy Malgin
Russia
2117
Oleg Zhirov
Russia
2145
Aleksey Pshenichnyy
Russia
TopLiga
2189
Renat Nugaybekov
Russia
2199
Ildar Shakirov
Russia
Adidas Runners
2213
Rustem Gilmutdinov
Russia
ILR
2231
Igor Plechko
Russia
2246
Nikolay Odintsov
Russia
red lava
M50-54 (Age Group 50-54 Male Athletes)
2169
Valeriy Romanov
Russia
Компания ЕВРОЗАПЧАСТИ
M55-59 (Age Group 55-59 Male Athletes)
2005
Vitaly Golovatyuk
Russia
2029
Sergey Bykovskiy
Russia
2153
Vladimir Eryshev
Russia
Алекс Фитнес
2161
Oleg Zhelezin
Russia
M60-69 (Age Group 60-69 Male Athletes)
2041
Pavel Subbotin
Russia
M70 (Age Group 70 Male Athletes)
2013
Boris Kirillov
Russia
F18-29 (Age Group 18-29 Female Athletes)
2021
Anna Malysheva
Russia
I LOVE RUNNING
2031
Polina Kozinskaya
Russia
2036
Elena Aleksandrova
Russia
2048
Tanya Anikina
Russia
2058
Polina Kuznetsova
Russia
2079
Katerina Zaozerskaya
Russia
2126
Alexandra Garbuzova
Russia
2130
Irina Ivanova
Russia
BONAMAN
2132
Anya Zakharova
Russia
Центр Спортивной Подготовки
2140
Agata Efimova
Russia
I love running
2148
Darya Khan
Kazakhstan
Fidelity
2150
Ekaterina Mikhalkina
Russia
2156
Anna Varfolomeeva
Russia
ILOVERUNNING
2159
Alevtina Grushina
Russia
2168
Anna Russkikh
Russia
AIRTAL TEAM
2174
Marina Badanina
Russia
2191
Alena Zatonskaya
Russia
Pro Trener
2196
Polina Spiridonova
Russia
БОДРЫЕ
2204
Dilyara Yamaleeva
Russia
Планета Фитнес
2212
Polina Konysheva
Russia
2219
Saniya Yarullina
Russia
2227
Sofiya Chudinova
Russia
Iloverunning
2234
Sofiya Chudinova
Russia
I love Running
2236
Ilsiya Shaydullina
Russia
Планета Фитнес
2251
Maria Parfenova
Russia
world class
2256
Alena Skvortsova
Russia
Kopernik Running Club
2258
Oktyabrina Kalinkina
Russia
F30-34 (Age Group 30-34 Female Athletes)
2003
Anna Krylova
Russia
Bryukhankov team
2050
Mariya Berezina
2071
Olga Kasatkina
Russia
Триатлон-НН
2085
Linara Korchagina
Russia
I love Running
2094
Marina Konovalova
Russia
Wow
2100
Elena Golovko
Russia
2108
Tatyana Partina
Russia
Триатлет
2120
Ekaterina Bobina
Russia
TRIATLET
2127
Yuliya Antipina
Russia
2134
Vera Kokhan
Russia
RullezTeam
2136
Kamilla Stepanova
Russia
2138
Olga Ganyushkina
Russia
SAP CIS Triathlon Team
2142
Irina Eremina
Russia
2157
Sophia Grinberg
Russia
I love running
2190
Ekaterina Rogova
Russia
2202
Anna Kostina
Russia
БК "Улитыч"
2205
Albina Gaynullina
Russia
2209
Evgeniya Makarova
Russia
I love triatlon
2210
Nazhiya Khamitova
Russia
2216
Albina Mardanova
Russia
2218
Ludmila Maletskova
Russia
I love Running
2237
Yana Ivannikova
Russia
Циклон
2709
Irina Shadrina
Russia
World Class
F35-39 (Age Group 35-39 Female Athletes)
2010
Ekaterina Afanasova
Russia
2026
Karina Ligacheva
Russia
2042
Anna Tambovtseva
Russia
2049
Aida Koshabaeva
Kazakhstan
Fidelity
2051
Anna Malysheva
Russia
World Class
2068
Svetlana Krulik
Russia
Негонки
2077
Olga Sovaeva
Russia
2093
Alina Novikova
Russia
World class
2102
Elena Altukhova
Russia
2115
Gulnaz Yaminova
Russia
2124
Kseniya Pulyatkina
Russia
ВТБ
2144
Natalya Zagorskaya
Russia
2164
Anna Kolchina
Russia
2192
Elena Lukyanova
Russia
VIP Sunshine
2198
Marina Vorobeva
Russia
2217
Yuliya Ivchenko
Russia
ILR
2220
Ilsiyar Aitova
Russia
F40-44 (Age Group 40-44 Female Athletes)
2046
Olga Nizhankovskaya
Russia
World Class
2111
Natalya Ryzhova
Russia
World Class
2129
Oksana Zhilyaeva
Russia
2270
Polina Kitsenko
Russia
ProTrener
F45-49 (Age Group 45-49 Female Athletes)
2001
Aleksandra Popova
Russia
Run4life
2074
Tatyana Martynenko
Russia
2211
Zulfiya Gilmutdinova
Russia
I love Running
F50-54 (Age Group 50-54 Female Athletes)
2062
Alla Korotkova
Russia
World class
2069
Olga Maksimova
Russia
2070
Svetlana Petrova
Russia
F55-59 (Age Group 55-59 Female Athletes)
2072
Elena Kasatkina
Russia
Триатлон-НН
Race number
Triathlon leg
Name and Surname
Country
Team
Male

3001
swim
Artem Lavrinenko
Россия

Jailbreak

bike
Dmitry Tsyshkov
Россия
run
Konstantin Zlobin
Russia

3007
swim
Danil Avdeev
Россия

newexperience

bike
Dmitriy Obuhov
Russia
run
Anton Sokolov
Россия

3008
swim
Alexey Burlo
Россия

RGRUNNERS

bike
Aleksandr Isaev
Россия
run
Vladimir Bolotin
Russia

Female
Hybrid

3000
swim
Tanya Kruchkova
Россия

Тройка

bike
Dima Kirilovichev
Россия
run
Tatyana Zelenova
Russia

3002
swim
Elena Klimenko
Россия

NAWINIA

bike
Roman Bauer
Россия
run
Aleksandr Grigorev
Russia

3003
swim
Victoria Chub
Россия

IWM

bike
Oleg Urvan
Россия
run
Alexander Pokoyakov
Russia

3004
swim
Anastasiya Gizatova
Russia

Северный олень

bike
Gazinur Farrukhshin
Россия
run
Andrey Savelev
Россия

3005
swim
Victor Prokofiev
Россия

GST GROUP

bike
Vladimir Volkov
Россия
run
Mariya Burchenkova
Russia

3006
swim
Dmitry Nikitin
Russia

ILOVERUNNING_Reutov

bike
Dmitry Nikitin
Россия
run
Victoriya Nikitina
Россия

3009
swim
Elvira Minnullina
Russia

Патимэйкеры

bike
Yuriy Nesterov
Россия
run
Rustem Nasybullin
Россия

3010
swim
Daniil Kuzmichev
Russia

PERM

bike
Nataliia Zakharchenko
Россия
run
Evgenii Osinnikov
Россия