"Your first half" – getting prepared for IRONSTAR 113 KAZAN 2016 in a team!
On August 28, 2016, IRONSTAR triathlon competitions will take place in Kazan, over the half-iron distance: 1.9-km swim, 90-km bike, 21.1-km run. On November 16, 2015, age group athletes' preparation programme starts in Moscow. It is launched by David Warden Coaching centre. 
Andrey Kolpakov from David Warden Coaching has related us about triathletes' preparation for Kazan competitions, as well as explained why this venue suits best beginners.
"Your first half" is a programme for triathlon beginners who want to finish the half-iron distance next year.
IRONSTAR 113 KAZAN 2016 is a perfect start for such sportsmen. It will take place in the very end of next summer, which means there is a lot of time to get prepared, but no risk of facing a rainy autumn weather that considerably complicates cycling trainings.
Starting and finish lines will be set at the foot of Kazan Kremlin. Swimming stage will take place in the Kazanka River that hosted World Swimming Championship in 2015. The cycling stage is technical and high-speed. The running stage doesn't have rises, which helps some of the participants to show good results, and the others – to finish the race confidently.
An hour-and-a-half flight, a one-night train journey or a one-day car trip from Moscow (in the last case, you won't even have to purchase a bikecase and disassemble your bike) – and you are in Kazan. Teammates will be able to go together – indeed, it is the best way to experience the pre-race agitation and celebrate the first finish over that sort of distance together! 
The budget of the trip is considerably lower than in the case of a similar competition abroad. Nevertheless, it is a good way to travel and to switch over from the daily routine to a sports festivity rhythm. 
The training programme is organized the way that triathletes get fully prepared for the start in terms of equipment, knowledge and technical skills, even if they: 
Last swam in a pool 10 years ago.
Don't have a road racing cycle.
Don't have proper running shoes.
The only necessary condition is the absence of health problems.
The programme starts on November 16, 2015. After November 16, it will be impossible to join the team.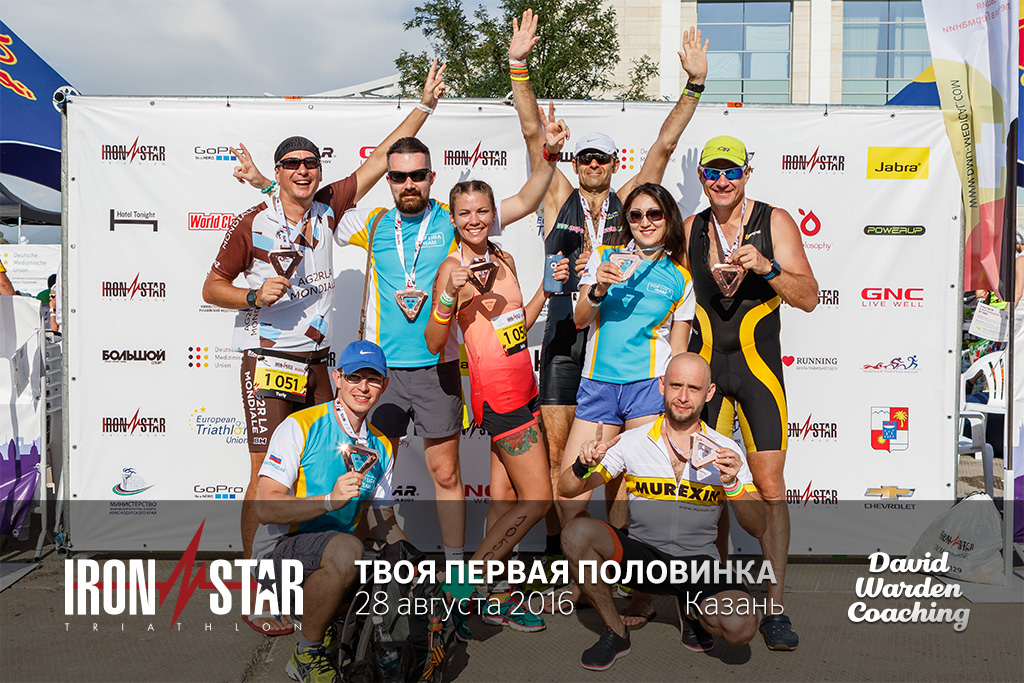 The programme consists of two parts:
1. "Beginner's training", November 16, 2015 – March 31, 2016
One swimming training in a pool and one indoor running training a week, weekly training schedule (common for the team), motivational reunions and lectures on equipment, health and safety.
2. "Train as you fight", April 1 – August 28, 2016
During this period, the individual distance coaching is added. A coach will create a training plan for you personally, considering your schedule and your actual life, will track your every step and keep you from mistakes.
In the middle of April, weekly team cycling trainings start in Krylatskoye. Until that time, there will be 3 or 4 trainings on a cycling track. Weekly swimming trainings in the pool will go on. During all the period, there will be 3 open water trainings and several team contests.
During 9,5 months only, there will be about 100 joint trainings, lectures and reunions. Five months out of this term will pass under coaches' full control. You will work with a whole team of professionals who have gone through this way themselves and then have taken their apprentices through it. The coaches will be by your side at hard moments, and will rejoice at your victories. We have witnessed scores of people reaching their half-iron dream, shoulder to shoulder doing what they would not succeed to do by themselves. We have to admit that the whole thing won't be a bed of roses; it will require strong power of will, time and financial investment. However, the delight to share your dream with a team of like-minded people is worth the effort. You will fall, hurt your knees, get corns, and be terrified of the open water together. And together will you overcome yourselves, make true friends, and fill this important day, August 28, 2016, with a new sense. On this day, your friends who have gone through this hard way together with you will wait for you on a finish line.
Click here
to learn more details and join the team
Back...