The triathlon race IRONSTAR 113 KAZAN 2020 will be held on July 3th on the "Half-Iron" distance: swim — 1.93 km, bike — 90 km, and run — 21.1 km.

Schedule for IRONSTAR 113 KAZAN 2020

July 3, Friday
Race Kit Pick-Up
EXPO
IRONLADY
STARKIDS


July 4, Saturday

Race Kit Pick-Up
Bike Check-In
Briefing
EXPO


    
Cut-Off Times
Swimming: 1 hour 10 minutes
Сycling: 4 hours
Running: 3 hours 50 minutes

Total cut-off time: 8 hours
Participation categories
List of age groups:
M/F 18 — 24

M/F 25 — 29


M/F 30 — 34

M/F 35 — 39

M/F 40 — 44

M/F 45 — 49

M/F 50 — 54

M/F 55 — 59

M/F 60 — 69

M/F 65 — 69

M/F 70+
Relay teams:
Male only team;

Female only team;

Mixed team.
Paratriathlets:
paratriathlets, male;

paratriathlets, female;

relay teams;

mixed teams with the participation of paratriathlets
Awards
Overall winners and Age Group's winners (men and women), relay teams and paratriathlets will be awarded in accordance with the results of the competition
Admission Information
The following documents are required for admission to participate and receive the starter pack:
ID card (passport or other eligible identification document)

Medical Certificate, draft here

Sport insurance or triathlon license
Documents' requirements can be found here.
Return and exchange of slots
Refunds are made to the internal balance of the personal IRONSTAR account in the amount of 75% of the entry fee. Funds from the internal balance can be used at any time to purchase any other entry on the site www.iron-star.com.
The transfer of the entry to a third party is possible via personal account. 
The change of the distance is possible from IRONSTAR 113 KAZAN 2020 to IRONSTAR SPRINT KAZAN 2020.
ENTRY FEES
Individual

Tier 1: 8500 ₽ Sold out
Tier 2: 11000 ₽ Sold out
Tier 3: 13000 ₽
Tier 4: 15000 ₽
Tier 5: 16000 ₽

Relay

Tier 1: 13000 ₽ Sold out
Tier 2: 15000 ₽ Sold out
Tier 3: 17000 ₽
Tier 4: 19000 ₽
Tier 5: 21000 ₽
Distance: swim — 750 m, bike — 20 km, and run — 5 km.
about the course
The race will take place in the  heart of Tatarstan capital, the metropolis which hosted such large sports events as the World Students Games and FIFA World Cup.
The swimming stage will take place in the waters of the Kazanka River – the symbolic place to Kazan. The cycling course is laid along the central streets of the city and passes by the walls of the Kazan Kremlin and the main sights of the city. The race finishes on the Kremlin embankment.
You will enjoy the stunning beauty of the course, get excited by the race, and feel warm support of residents and guests of Kazan.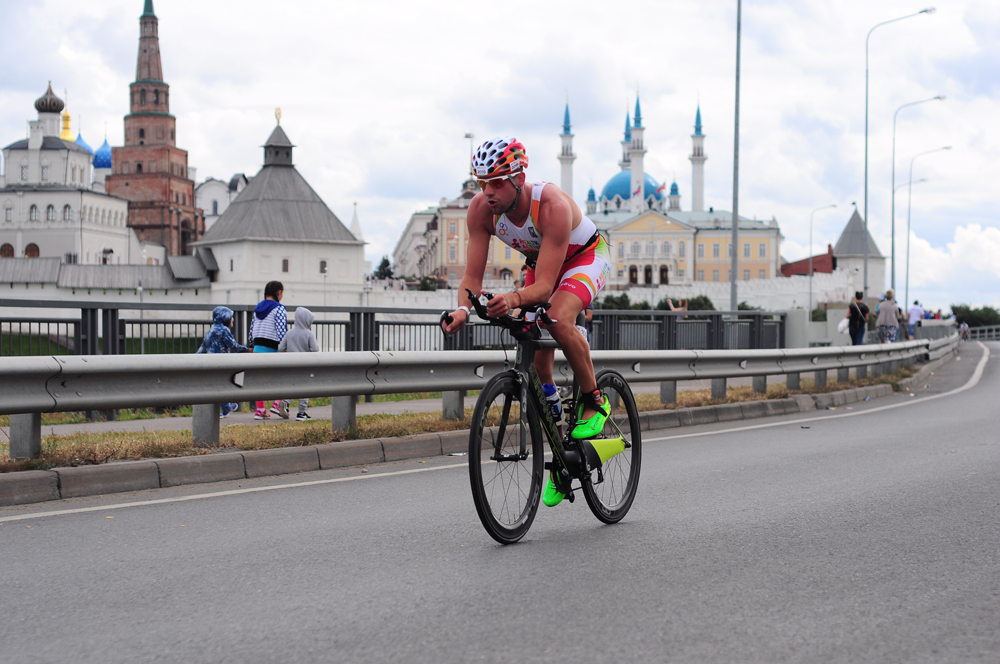 The swimming stage will take place in the waters of the Kazanka River – the symbolic place to Kazan. The cycling course is laid along the central streets of the city and passes by the walls of the Kazan Kremlin and the main sights of the city. The race finishes on the Kremlin embankment.

You will enjoy the stunning beauty of the course, get excited by the race, and feel warm support of residents and guests of Kazan.


How it was in 2019