Darren Ho will be the first and so far the only member of IRONSTAR 226 SOCHI from far-off Singapore. His second year of training with Tatiana Ivanova, who also helps us with preparation plans for our start. Next week we will publish her plan for 14 weeks of preparations for 226 SOCHI. In the meantime, let's listen to what Darren told us about his life as a triathlete in a small city-state, the Republic of Singapore.

 "The climate in Singapore is merciless and not at all favorable for outdoor sports. The temperature is 37-38 degrees and humidity is almost always 100%. In this climate, heart rate monitors go off-scale, and athletes carry a liter of water and plenty of food, as there is nothing worse for the working organism than this humid heat, and one should be ready to support his body. Also in the past few years, apparently, as a result of global warming, it has become even hotter, the increasingly heavy rains turn into torrents and real floods. Then everything is closed, including swimming pools.My My day begins with a light jog or bicycle training in the early morning — it helps me tune in for the day. Then I focus 100% on the main workout of the day — it can be a long and hard interval swimming training, a long race with accelerations or bike training, as well as work on speed endurance in all disciplines. Sometimes the coach puts in the plan the bricks — and I think that such trainingis even harder than the competitions themselves and that it is how it should be.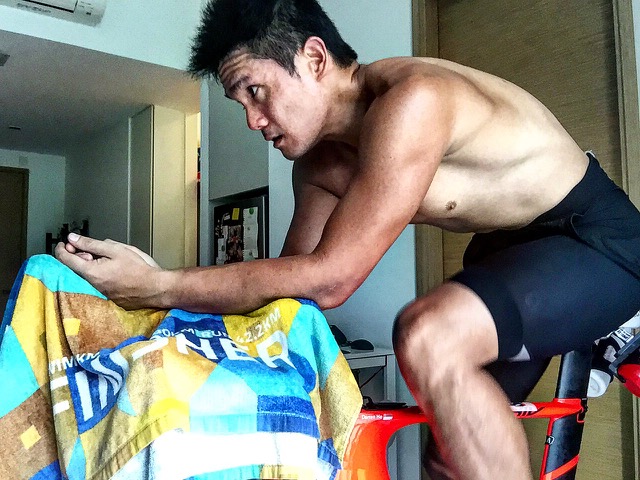 Recently, I began to vary my running training more often and try to run on different covers (asphalt, trail) to break the monotony of long races. I spend most of bicycle trainings on the simulator at home, as this is the most effective and safe way to train. But from time to time I go on the Singapore roads — but we have only few roads, in contrast to the number the cars on these roads. Actually it is possible to train only very early in the morning or very late in the evening.

To sum up, it is very hot in Singapore , the humidity is high and the infrastructure of megapolis is not very suitable for the triathlon. But we, triathletes, do not give up and still train, wherever we live! My trainings have become a big part of my life.


I would also like to share one event from my life, which is also connected on the triathlon. At the finish line in Bintan, I proposed to my beloved one. It had a symbolic meaning, because a year ago I first came to the start of the Olympic distance in Bintan — and the first attempt was always a flop. I was totally exhausted, but reached the finish line. And I decided that next time I will do better and start a new life! And everything turned out well, and the competition went down a storm, and my beloved one said "yes." Therefore, the new life begins! ".